V-Tech Time Trial Bike Frames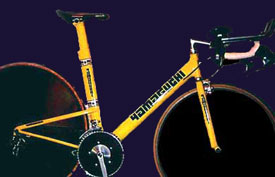 The Yamaguchi V-Tech Time Trial frame offers a huge aero advantage for triathlon and time trial specialists interested in obtaining the maximum performance edge.
Please note: Union Cycle International Regulations concerning frames without one of 3 main tubes makes the V-Tech illegal for U.C.I. mass-start races. Additionally, all bicycles for USCF races must be UCI compliant by 2007 per the 2004 USCF rule book. Triathlons are not effected by this sanction and athletes may still compete using the V-tech for any USCF races until 2007 and all triathlon races.