Team USA Track Bike Frames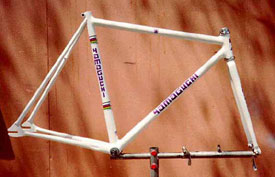 This superb frame was developed for the US National Team. Yamaguchi designed custom made True Temper heat treated tube "Bioconic-RCX" set is meticulously fillet brazed at a carefully controlled temperature with nickel silver for maximum strength.
These are the most technically advanced steel frames on market. The special tube sets results in a bicycle that is very stiff for the strongest Sprinters. It's flawless, responsive handling make it one of best sprint bikes.
Features
Aero-shaped down tube
Tapered seat tube with an oversized B.B.section
Oversized top tube
Straight fork blades
Ordering Information