Aero Track Bike Frames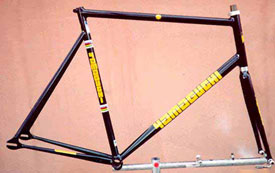 The Yamaguchi Aero Track frame was developed for cyclists looking for the aerodynamic advantage in competition. Yamaguchi designed custom-made True-Temper airfoil shaped Heat-Treated Tube set is meticulously fillet-brazed at a carefully controlled temperature with nickel silver for maximum strength.
It has an airfoil shaped down tube, over sized top tube, airfoil shaped seat stays, light gauge chain stays, and airfoil shaped seat stay light gauge chain stays and airfoil shaped straight fork. These provide the best aerodynamic advantage of any steel frame on the market. This lightweight frame makes for good acceleration. Good use for Endurance events like The Point race, Miss & Out, Madison, And can be used in Pursuit Events.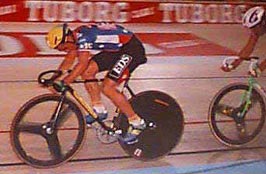 '94 World Championship (Hamer Norway) - Steve Hegg on an early model Yamaguchi Aero Track frame